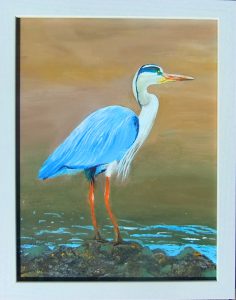 Ok, so I am pretty new to the art scene in Vero. Last season was great for me. I sold 20 pieces mainly from Vero Beach Art Club's Art in the Park, and (I was lucky enough to get into} Under the Oaks. Under the Oaks is huge. The third biggest art show in the U S! What fun that was. I don't mind setting up at all. It's very exciting for me. Setting up the tent, arranging the art on the grids, then hoping for buyers to come thru that love what you paint.
I am already set for two art shows here in Vero for the fall "season"
Autumn in the Park- weekend of October 6 and 7 at the park in Riverside near the Children's Museum.
Winter in the Park Dec 8 and 9th. also at Riverside Park
Just placed my application for Art in the Park. Will post the dates. Usually once a month on a Sunday October thru April.
Also, I am so very sad and heartbroken to say that my beloved Maxwell has passed onto Rainbow Bridge. He was almost 15 years old. Never was there a dog who was so smart, grateful, and loving as my Max. He had a great life traveling all around the Chesapeake Bay, swimming in all the creeks and streams. He even got to swim in the waters of the Bahama Islands.