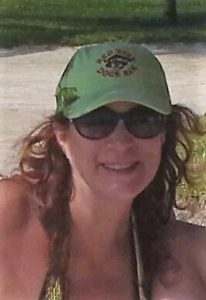 Greetings!
I love living here in Vero Beach Florida. It is so beautiful here and nowhere near as crowded as where I came from: Baltimore. Don't get me wrong, I love Baltimore. My family and friends are there plus I lived on the water on the Chesapeake Bay for almost all my life so beautiful herons, ducks, osprey, snakes, and steamed crabs are part of my life.
Anyway, here in Florida, I live on a boat in a beautiful marina where there is lots of inspiration for painting beautiful fish and wild life. I like to add color and depth to my artwork by adding sand, shells, stones, and sea glass to some of my pieces. I have always been a bit creative, usually in creating knitted garments and hooking rugs. I started painting about five years ago, still in Baltimore. I painted wineglasses, jars, and anything glass. Mostly I gave them away as gifts. Then I had an idea to twist metal into napkin rings, wine charms, and wrapping beaded wire around wine glasses. I did pretty well selling these items but I really wanted to paint on canvas.
In the beginning I painted simple but colorful small pieces which sold quite well at art and crafts shows in the area. Starfish, sea horses, and simple fish were first. Upon moving to Vero Beach, I graduated to more complex art scenes, learning how to blend colors and use a pallet knife. An art teacher told me never to be afraid of color and I have heeded her advice accentuating and exaggerating the coloring of sea and bird life . I still continue to develop techniques in the depth and complexity of my art. I even did a portrait of my dog, Maxwell, which I must say, looks just like him!
So, I hope you enjoy looking through my collection. I add new pieces to it constantly.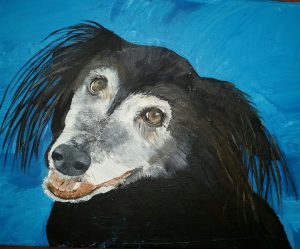 Iris